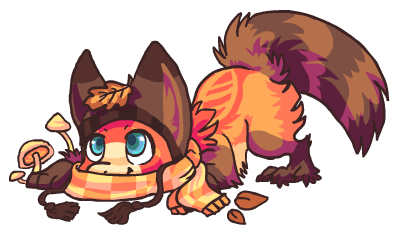 xD Felt its better to just post the answers of common asked questions here, and put them over in my faq's later.
Please take the time to read my faq's before you ask any questions, most of the time it is answered already, and it takes a lot of time to answere the same question over and over.
If you see someone who does ask a question which you already know the answer on from reading my faq's I am very greatfull if you answer the people for me when I am not here

And I thank all of those who already do it! helps me and the ones asking out a lot haha.
Were did you get this journal CSS?
I installed it looong ago, but unfortantly the person who made it, took it down from dA. I will be posting the code to the original journal Css soon for people to use.
How did you make the gallery icons in your gallery?
Read about folders here
FAQ #762:
What is the Gallery Folders Feature and how do I use it?
How did you get the pelican/brush lover badge?
The pelican was recieved by buying any print of this awesome piece ( I bought a magnet 8D ). The badge will be recieved when your order has been shipped.
The brush lover is no longer available, and was only given to those who bought brush packs or something.
do you do Trades, requests??
xD click on the trade,request,design thingies on my page and read.
What size do you draw your art in?
99% I draw it in the size you see uploaded. To find that size, right click and click on image options and it will tell you.
When will you open commissions again?
Time has been kinda busy for me at the moment, lots to do in real life xD which explains lack of activity! I will open new commissions when the todolist in my commission box is done.
----------
If there is more questions you want answeres on you can ask here

NOW GO GIVE THESE BABES SOME LOVE


<33
FAQ's
commissions
tumblr