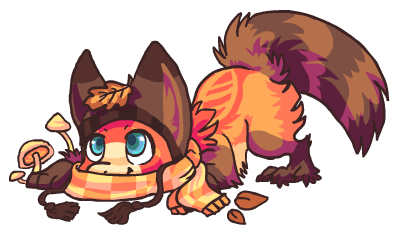 WHAA tO many amazing entries, I loved seeing how everyone tackled the challenge of this contest and doing so much diffrent versions than the example I put up! 8D Hope it was a fun challenge for you all! I had so many favourites in this contest that I just had to add more prices xD
1st place
by
starlitshore
THIS IS SO BEAUTIFUL. Its squares but yet it just flows beauitifully, it has so much movement, so much contrast yet it so calm and amazing to look at! D8 I love this so much FF <3
You win~
- 2000

- pixel Icon
2nd place
by
fjara
I AM loving EVERYTHING here aswell! HNG the background that seems endless and gunnar which is just hopping around in there with his diamond xD SO cute <3 I love the reuse of his colors in the background and his body shape is just so cool!
You win~
- 1000

3rd place
by
Hioshiru
AAHH I just LOVe those wings! FFFFF D8 And hes in this mystical night scene wich fits his personality perfectly! BEauifully chosen colors and I love the fact that you stuck to blues <3 Those wings <3 what a creative amazing way to draw them! <33
You win~
3rd place
- 500

Extra places
You will all win 300

each
by
AlmondFeather
D8 He looks SO cool in this! his pose and those wings <3
by
Essemjeeves
THECOLORs <33 HNG you are the king of purple ;A; <33 I so LOVe how you did his blue markings thats so cool!
by
kiki-kit
D8< OH MY GOD how cool isnt this! That fire looks so amazing! This is so stylized and cool!
by
Mariie-Luna
LOKI looks SO CUTE in that hat! I love this idea! XD I LOVEthe old mario games aswell <3 Lokis ears <33 and the colors FFF <3
Cutest of them all
You win 350

by
pinkbunnii
xD AWWAWAWA HOW CUTE ISNT STEWART <3 That square big face sdgkjdsgsdg <3 gosh the way he sits <33
--
8D thank you all for joining! wish i could give more prices, but I have no more points.
FAQ's
commissions
tumblr